The Bike:
https://www.bikeradar.com/reviews/bikes/mountain-bikes/trek-marlin-review/
The task:
Remove the front and rear derailleurs and replace with single speed.
Remove shifters and cables
Fix the wobble in the pedaling, seems to be a bottom bracket issue.
Add to the toolbox:
https://www.parktool.com/product/universal-crank-puller-for-square-taper-and-splined-cranks-cwp-7
Cool video on bottom bracket removal
Another video series that covers a 1×12 upgrade:
The 2011 Marlin Gary Fisher also had a Single Speed Version:
https://www.bicyclebluebook.com/value-guide/product/3075552
https://www.pinkbike.com/buysell/1744726/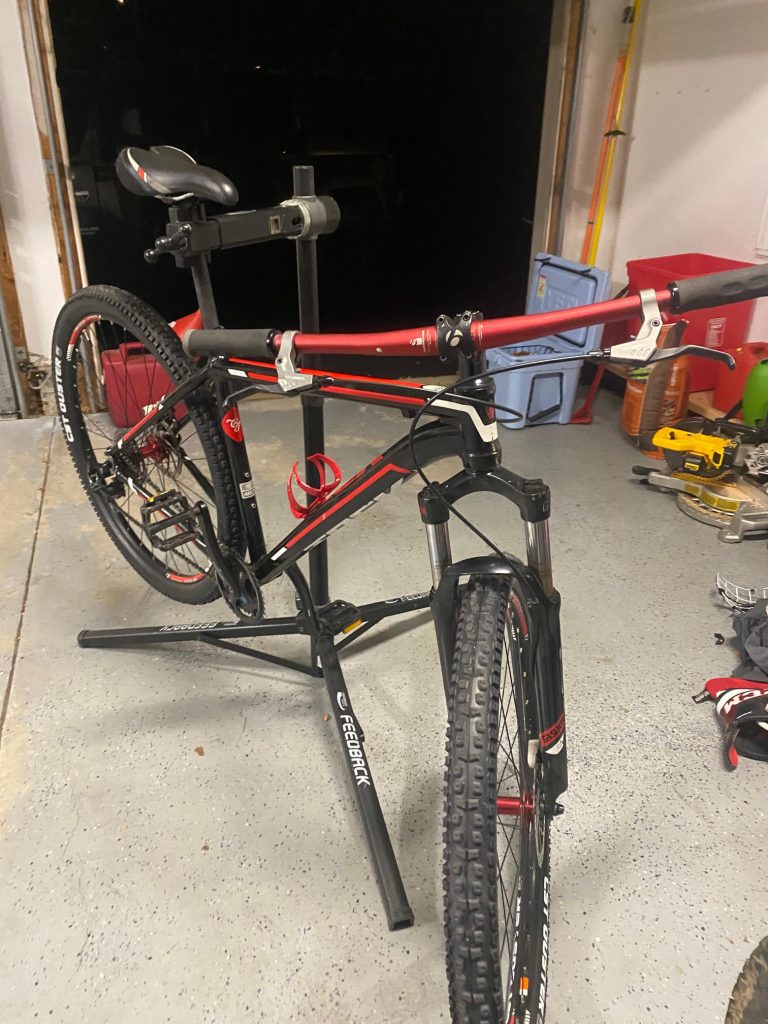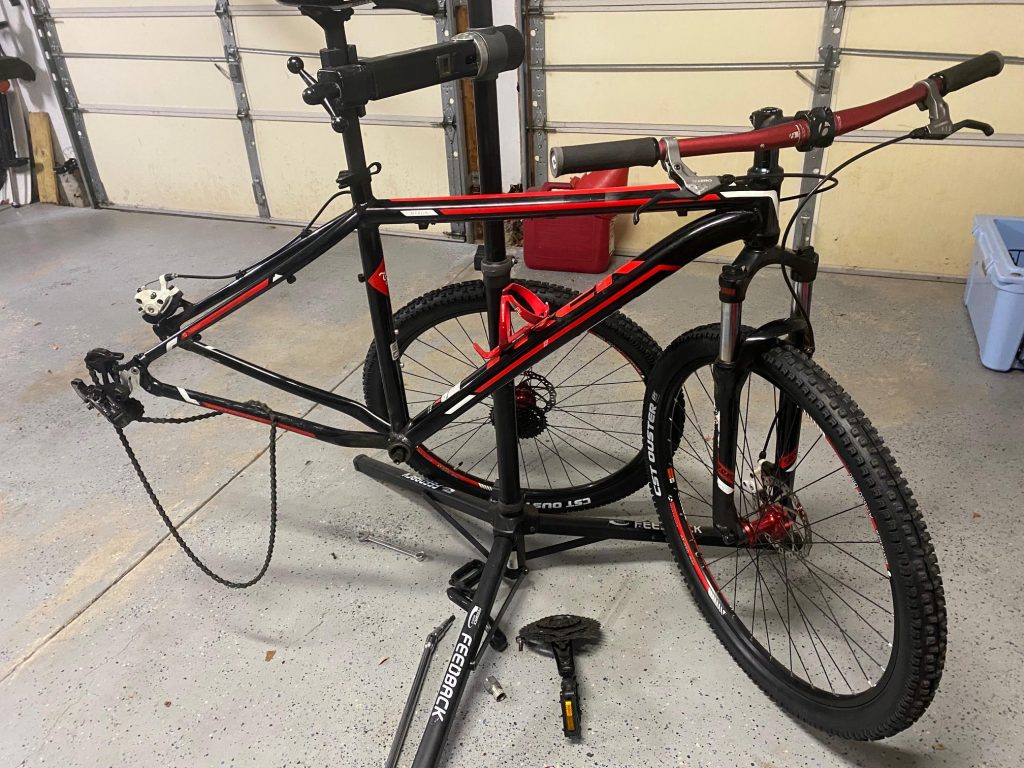 Forks
The original Suntour forks were making lots of noise and were not running smooth. They were replaced with some 100mm Rock Shox Recon Silver .
Brakes
Some donor components from a 2006 Giant Anthem 2 converted the cable brakes to hydraulic.
Mounting the cables involved some innovative use of tiewraps.
Single Speed Conversion
The original BB was swapped for a SRAM DUB BB with 175mm Truvativ Stylo Cranks after initially having some cheap cranks from Amazon on the original square taper BB. These were 104 BCD and were paired with a Wolf Components 32t Chainring.
The first tensioner used was Cycling Deal from Amazon. This worked well and provides tension by pushing down on the chain and mounts easier to the hanger bracket.
It was however very noisy and has no bearing on the gearing.
Currently the bike is running a DMR Tensioner that has bearings. This attaches using both the hanger bracket and axle. This is a much quieter solution so far.
Single speed chain tensioning is still a challenge, especially when changing between rear gearing. It's currently running a 32/18 setup which only just allows the tensioner to be placed underneath, thereby maximizing the chain engagement. With the tensioner above the chain line the chain would skip on steep climbs.
Other options under consideration are a Eccentric Bottom Bracket. The First Components EBB supports SRAM DUB but is currently out of stock.
C247D-68-73-assembly-A1.pdf (firstcomponents.com)
This also looks like a better option for this bike, the Surly Singleator.
Tubeless Conversion
Still not, despite hours and hours trying to mount different tyres with and without the help of a compressor.
Gorilla Tape and Orange were attempted. The Tyre was too far off the rim to get it sealed. Will possibly try with the help of a cushcore.